PAYMENTS
Credit Cards
Major credit cards accepted with payments via PayPal. These payments are fast, free, and secure!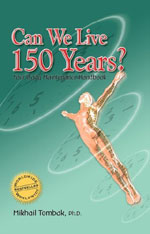 Mikhail Tombak
Can We Live 150 Years?
ISBN 0972732802
LCCN:2002117327
Price 19.95 USD
DELIVERY
Next day shipping for all orders received by noon, Pacific Standard Time.
US Orders: from Blaine, Washington
Canadian: from Vancouver, BC
Contact us for more payment options and any questions you may have.